Often people who get older are less able to get out of sitting posture. Why do people not use the chairs that they use? Power Lifts provide non-complication but also help with standing positions. Power lift recliners are ideal for patients with leg pain, back pain, balance challenges, or recently undergoing surgery causing temporary disability. Lift recliners provide several functions to intimidate first-time buyers.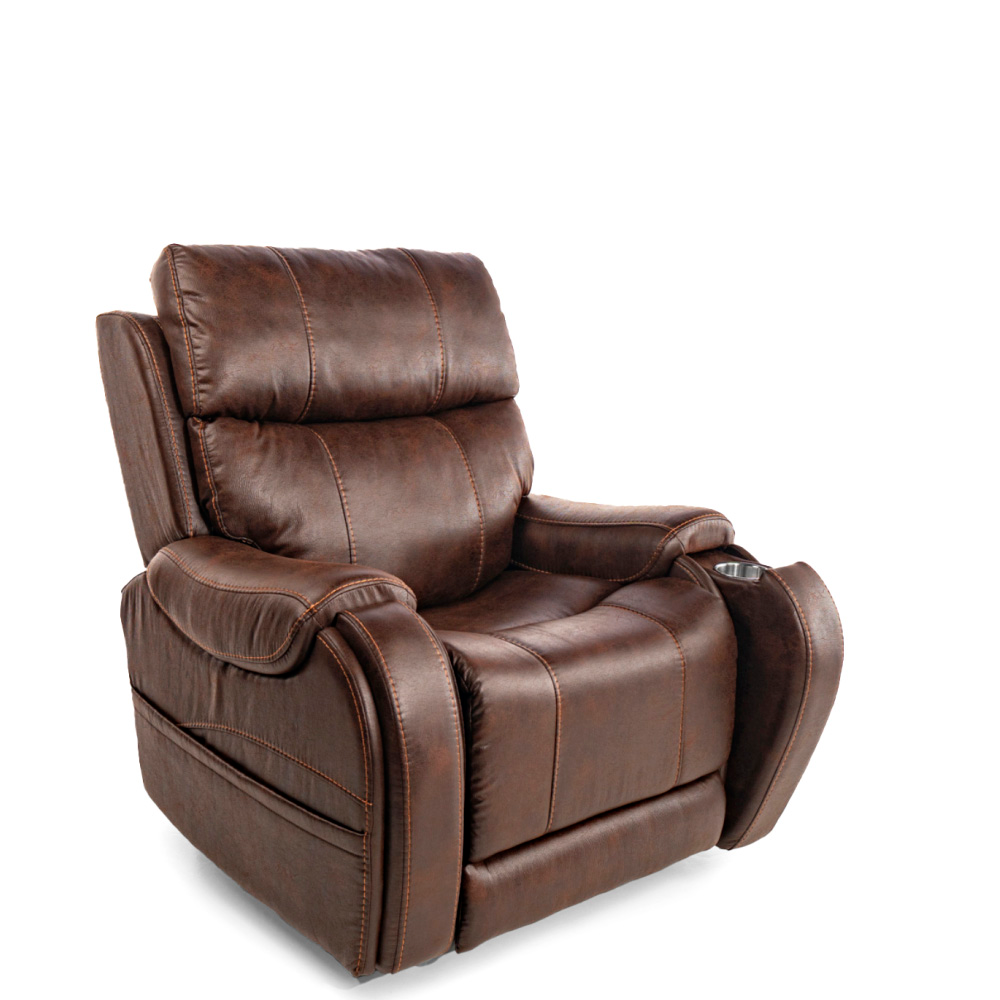 Unlike the traditional seat, lift recliners offer optimum comfort for older adults. Even for people with limited mobility, lift recliners can provide more support as aging. It can sometimes become difficult for people with joint pain or muscle contractions while walking.
It could be challenging for people who can't stand up or sit down in their seats. The powerlifting chairs are powered to resolve all these issues, and they can also help strengthen the lower back muscles. It eases the living conditions, significantly decreasing injuries.
For this reason, we have come up with the most effective powerlifting chairs for the elderly and found a complete guide to buying a suitable recliner for yourself.
Best Power Lift Recliner Chairs In 2022
The older age group can often suffer from muscle fatigue makes it hard to move from standing up to sitting down. Fortunately, the lifting chair can deal quickly with this problem. This recliner helps people enjoy the comfort of their daily routine and reduce injuries and stress. It gets even worse as lower body weakness becomes more noticeable. The features play a significant role when choosing a lift chair.
The power lift chairs are an ideal option for older to retain freedom and have a quality life. Lift chairs assist you in getting up without having to call for assistance at each point of your life. Hence, it is critical for those who need help aging comfortably.
The power lift recliner solves the issue using a lifting mechanism. These devices are safer and more secure to use and prevent stiff or aching joints.
As its name describes the Greek God Atlas, it certainly feels like a throne of Atlas while sitting on this heavy-duty electric lift chair. With the extensive feature of two hidden cup holders to hold in a glass of drinks. A convenient remote control features to recline feet raised for the perfect, restful nap.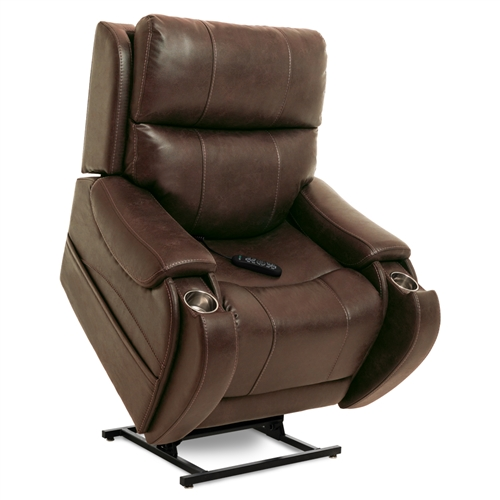 The Atlas Collection from Pride Mobility allows infinite positions, including the power headrest, backrest, and a lumbar support system, with the footrest extension with the push of a button. Hence it provides both comfort and support at the same time.
The beautiful faux leather upholstery is available in three different shades. At Pride, we select only the finest synthetic materials to ensure durability. Pick from Badlands Steel, Badlands Walnut, and Badlands Mushroom to accent any part of your living space.
The leather is easy to clean and wash. This fully reclined chair has a USB charging portal that helps seniors with simple charging accessibility.
If you don't use the cupholders, they slide back into the armrests as they weren't there in the first place. The chair facilitates multiple positions, including standing position, upright position, and seated position, with easy access through the remote and has USB ports to charge your mobile.
This zero gravity lift chair has a weight limit of up to 400lbs, with the seat cushion being 22 inches in width and 21 inches in depth. Additionally, infinite positioning lets you personalize your comfort and find the perfect spot every time.
Chair Features
Power headrest
Power backrest
Power lumbar support
Weight limit of more than 400 pounds
Easy to assemble
Side pockets: Yes
Dual motor
Dimensions: Seat depth- 21″, Seat Width- 22″
Material: Leather
USB remote
Lithium battery backup
Footrest extension
Dual cup holders
The Lift Chairs with Elegance as part of the VivaLift Collection provides an extra level of sophistication to your most loved areas. It is a stunning accent piece for your living room with beautiful colors that blends with your home decor.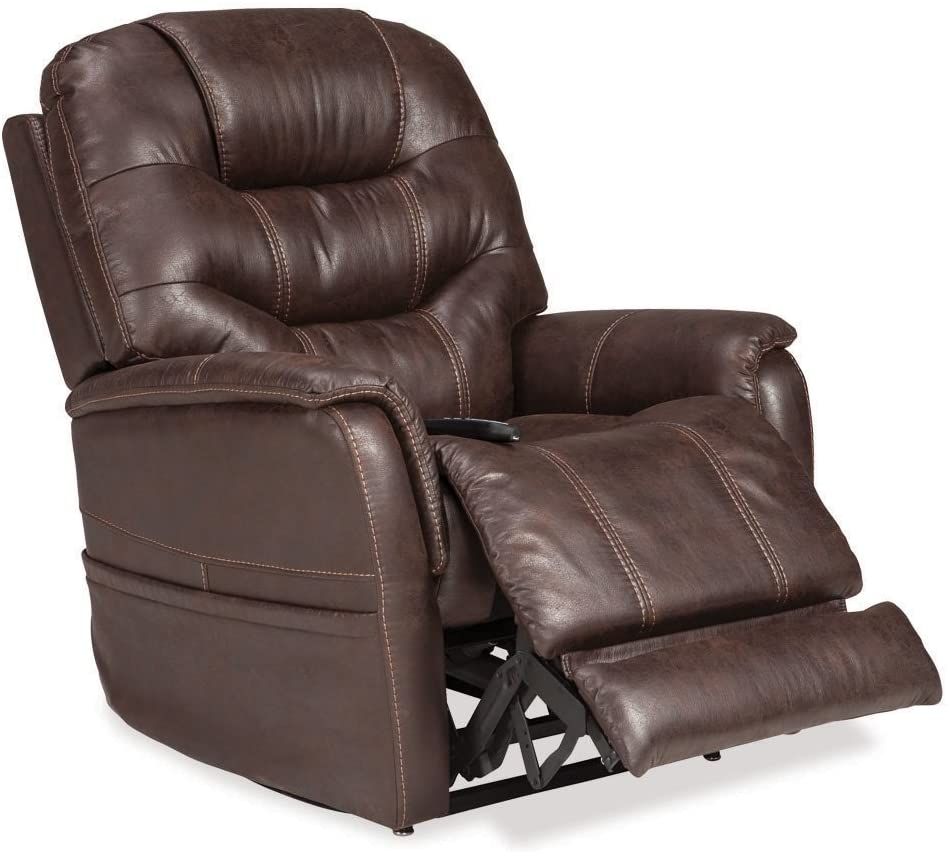 It doesn't take an expert in the art to appreciate thoughtful, deliberate design. It's evident in the power headrest and the back and footrest extension. The Elegance Recliner will allow you to relax completely.
The Elegance comes with an ability to support 300 pounds or more. The USB remote can charge your mobile phone and offer you total control over an extension of the footrest, the power backrest, lumbar, and headrest power independently.
If you're looking for a recliner or lift chair, you should consider the function and comfort over appearance.
Features
A stunning, elegant recliner is more than visually appealing. It's the ideal blend of design, function, and comfort. This collection from Elegance Collection from VivaLift Power Recliners offers all these and more, offering an ideal place to sit and relax with your loved ones. The soft faux leather fabric and the contrast stitching make this recliner a perfect fit for your home.
Power headrest
Power backrest
Power lumbar support
Weight Capacity of 300 lbs and more
Easy to assemble
Dual motor
Dimensions: Seat Width: 22 inches, Seat Depth: 20inches
Side pockets: Yes
USB remote
Material: Faux Leather
Lithium battery backup
Footrest extension
The Advantages of Owning The Best Lift Chairs For Seniors
Lift-reclining seats are the best recliner chair for the aging and elderly. They lift your body to help ease the transition from the sleeping to the lift-up position. Lift recliner chair looks and feels like traditional chairs but features the comfort of a regular recliner, mobility aids, and features with a side pocket.
This zero gravity lift chair is comfortable to sit in and sleep in. The soft-touch buttons are manipulated or pressed to make the user adjust as per their liking. A heavy-duty lift recliner helps improve mobility, comfort back pains, and prevent muscle or neck strain.
Distinctive Features:
1) Infinite Position
With multiple positions, this reclining chair allows you to comfort from the infinite lay flat to complete recline. It offers you 4-positions- Lay flat, Upward lift, Relax, and Recline.
Also, tailored with 4-motors which control the footrest and backrest more conveniently with the touch of a button, and is ideal for people who spend most of their time in chairs with comfort to sleep.
2) Power Support
With the USB charging ports in the remote, you can keep your devices charged while sitting in the chair. The power headrest supports the head, neck, and shoulder and prevents neck or muscle strain.
3) Weight Capacity
This modern and sleek lift chair comes with a weight capacity of more than 300 pounds and a power headrest, backrest, and power lumbar support. It provides enough space to fit in and sits, relax or even sleep for an entire day.
4) Dimensions
The chair has 161 pounds in weight, 22 inches in width, and 42 inches in height and comes with 7-years of warranty. These lift chairs also contain side storage pockets that help seniors put their prescriptive medicines in them, tailored with high-quality upholstery leather fabric, which is stain-resistant and easy to clean. It is designed while keeping the ease of the users in mind, reclines up to 140 degrees, and has up to 400 pounds weight capacity.
5) Independent Control
The lift feature facilitates their users to operate this chair independently with soft-touch pendant control buttons. You can set your position and comfort your sleeping or sitting needs. You can keep your feet relaxed with footrest extension and enjoy reading books, watching TV, and whatnot.
6) Gentle Lifting and Reclining
Are you struggling to sit down or get out of your chair? With a gentle lifting mechanism, this recliner chair helps you stand up by simply pushing a button. In addition, the chair reclines to comfort your sleeping position.
FAQs
1) How Do You Know If You Need a Lift Chair?
A lift chair differentiates from a standard comfort chair by incorporating a mechanical lift mechanism raising and tilting it forward. It enables you to sit back into the seat to get into it or place your foot into it and stand on the ground to get out, with the effort or flexibility necessary to change positions from sitting to standing.
Hence, if your discomfort with standing or sitting and shifting positions, you must consider getting a power lift chair to ease your elderly.
2) What to Consider When Choosing The Best Recliners for Seniors?
During busy days, the relaxation of one's favorite recliners is an excellent reward. However, for those who find it difficult standing up from their favorite chair due to surgery, pregnancy, or joint pain. Most comfortable chairs for the elderly are equipped with mobility aids to help them sit. Consider the size of the chair, materials, and the additional function of the seat.
3) Is Power Lift Recliner Safe For The Elderly?
Most lift recliner designs meet the aging needs of seniors so that the recliner would be safer. They can control the chair by a remote control device – it just takes pushing a button to set the settings for them. Also, come with side pocket features that help them store their essential medicines without stepping out of the chair.
4) Are Power Lift Chairs Worth It?
Power reclining chairs offer gentle support in standing position and recline at your convenience. Power recliners facilitate users with leg or body issues. So, it is definitely worth investing.