A complete guide on picking a dedicated mobility scooter for the disabled serves the intent you need.
Mobility scooters are a great substitute for a wheelchair and promising for people with limited mobility. Nowadays, they are gaining popularity among people with joint injuries, leg pain, or difficulty moving. Since they are visually attractive, compact, and comfortable to drive the entire house, they serve almost every age group having incompetent moving.
Need help discovering the best electric mobility scooters for the elderly?
We are here to assist you all in discovering the mobility scooter that fits your requirements. Generally, scooters can be more versatile and functional in compact places. These are the most selected choices for the elderly having difficulty walking. The typical weight capacity ranges from 350 to 800 pounds with variable models and features.
What are Mobility Scooters?
Mobility scooters are electrically powered vehicles designed for people with restricted mobility, including senior citizens or disabled adults. The mobility scooter has different sizes, features, and portability and comes in a lightweight and comfortable to sit with an adjustable seat.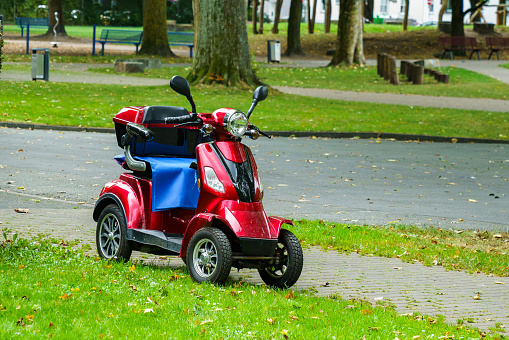 An electric scooter has many advantages, besides catering to the needs of the elderly and people with physical disabilities, it also saves you from skyrocketing fuel prices. The ability to maintain independent living becomes progressively more critical as people mature. It can help keep the mobility of disabled people in check with their friends and families.
Choosing the Best Mobility Scooters for the Adults
Mobility scooters offer independence to older people who have trouble with their day-to-day activities.It may seem like an overwhelming problem to find the perfect scooter that fits your needs. With this guide, you will get a clear mirror for choosing the ideal scooter to ease your mobility.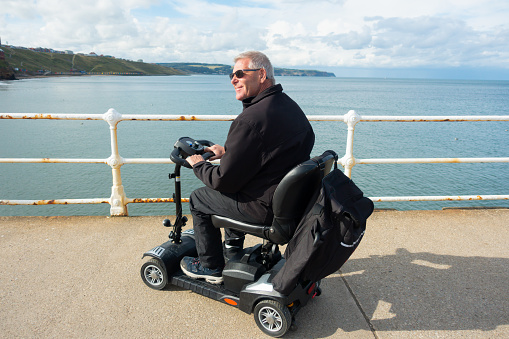 Here is the collection of the best travel scooters for handicapped and seniors!
Build your mobility game with this portable Go-Go Ultra X 4-wheel scooter by Pride. This vehicle has a powerful battery, speed, comfort, durability, and most importantly, reliability that most people appreciate in this particular product.
This 4-wheel economy class vehicle offers a massive potential of about 8.9 miles with a single charge, letting you get the most out of this portable scooter. With a 24-volt DC motor, it gives a 4.1 mph of speed.
The Go Ultra X breaks apart into 5 pieces, the heaviest piece weighs just 34 lbs. The seat turns to make entering and leaving your bike smoother. It's not difficult to dismantle for transport, and these lightweight and foldable scooters can easily fit in the smallest car.
Top Features
Price: $1,129.00
300 lbs weight capacity
3-wheel mobility up to 4.3 miles per hour maximum speed; Four-wheel up to 4.1 mph max speed
3 wheel mobility up to 8 miles per charge at 200 lbs, (4W) up to 8.9 miles per charge at 200 lbs.
Turning Radius: 52″
Foldable: No
Scooter Drive Range: 6.60 miles per hour
Comfortable back, 17"x17" folding seats.
Easy transport.
Easy adjustment knob.
A front storage basket
A convenient and dual voltage charger port to charge your scooter.
Non-scuffing tires
The greatest travel mobility hero, Go-Go Elite Traveller Plus delivers the most stable and durable long-distance traveling than any mobility scooter. These models work best outdoor with comfortable four-wheel stability and come with easy transport folding features.
This portable electric travel scooter offers
An exceptional range of up to 14.5 miles
A speed of up to 4.5 miles per hour
A weight capacity of about 300 pounds
In addition to that, You will get the most comfortable sitting experience with great portability. With combined dual 18-amp-hour batteries, this power mobility scooter offers the best mileage one can expect. Most convenient bikes available today accompanied 10-amp or 12-amp batteries.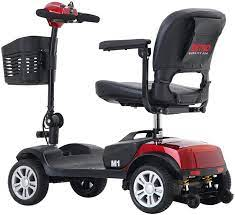 The comfortable seat allows the patients to sit more conveniently without body aches or discomfort.
Go-Go Elite Traveller Plus 4-Wheel Features
Price: $1,409.00
300 lbs. weight capacity
Up to 4 mph speed
45″ turning radius
Cover up to 14.5 miles every charge
Seat Type: Compact, Foldable (17″x17″)
Weight: 87 lbs.
Seat-to-Ground Height Range: 20.5″-22″
Lightweight and best for outdoor users
WarrantyLifetime limited on frame:
2-Year limited on Electronics;
2-Year limited on Drivetrain
Standard LED lighting
Non-scuffing tires
Comfortable seat
A front basket for storage
The charger port with dual voltage charger lets you effortlessly charge your scooter
This pride mobility 4-wheel scooter offers a unique experience to its users. You can enjoy the freedom of mobility with this exceptional scooter.
It is a pleasure to drive this compact and portable scooter that can enable you to move from one place of the house to the other. With enough storage and simple navigation, travel to your destination without inconvenience.
So, do not let your disability stop you enjoy your life as an explorer. The LED lighting that comes with this model helps you to navigate the small tracks like walkways or sideways.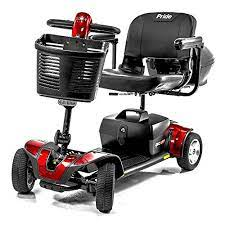 With easy assembly, it can help you to travel to the grocery shops, malls, parks, or even anywhere in the world with proper care.
Go-Go Sport 4-Wheel Features
Price: $1,519.00
325 lb. capacity of weight
Up to 4.7 miles per hour speed
Seat-to-Ground Height Range: 220.5″-22″
Battery Weight: 614 lbs. each
Cover up to 12 miles every charge
Warranty Lifetime limited on frame:
2-year limited on electronics;
2-year limited on drivetrain
Easy adjustment knob
Compact, foldable seat
50.5″ turning radius
Lightweight
Stable seat
Front basket for additional storage
Non-scuffing tires
Standard LED lighting
The charger port conveniently charges your scooter with a dual charger facility
This heavy-duty scooter comes with a strong power battery which offers the maximum durability that you can expect from Pride Mobility scooters.
With non-scuffing tires and other numerous features like LED lighting, an adjustable seat, and a durable battery makes this travel scooter a perfect option for everyday purposes.
With exceptional stability and comfort, this pride mobility scooter lets you enjoy your movements without being restricted to one place.
Also, with an 18 by 17 inches adjustable seat to sit comfortably all day long. So, you can move up to your meal at the dinner table and not need to stick to a place.
Victory 10 4-Wheel Features
Price: $2,129.00
400 lbs. weight- capacity
Up to 5.3 mph speed
Travel up to 15.5 miles on every charge
Standard Seat Type: Compact, Folding;
Material: Black Vinyl.
18″ x 17″ inches adjustable seat
Weight With Batteries: 4-wheel (U1)- 185 lbs.
4-wheel (40Ah)- 201 lbs.
54″ turning radius
Premier style, lightweight, non-scuffing tires
Classic front basket
A LED headlight offers optimal lighting
Easy-grip handles
Easy access charger port
FAQs
Why choose mobility scooters?
These scooters offer stable mobility for seniors and for those who are older and have disabilities with maximum comfort. Also, these heavy-duty scooters come in two variants- a 3-wheel mobility scooter and a 4-wheel mobility scooter, and you can choose between these two as per your convenience.
How much is a mobility scooter worth?
The price range for a mobility scooter is usually between $1000 and $2,500 or higher. The price varies for different models with various features. Some are travel scooters while others are general scooters to drive at home. Some are best for outdoor use while others are best for indoors.
How fast do mobility scooters go?
The average speed for a motorized scooter is 4-mph approximately, with optimal comfort while driving, and does not overpower the driver. However, this speed can vary between 5 mph and 18 mph.
What happens if you exceed the weight capacity on a mobility scooter?
If you exceed the average limit of weight recommended by the manufacturer, it could badly damage your scooter. It can adversely affect the battery life, body, speed, and tires.
Can you use a mobility scooter if you are not disabled?
You can use a mobility scooter only if you have difficulties walking due to joint pain, injury, or any physical disability that limits your movements.
Which heavy-duty scooter works best for traveling?
Pride Go-Go Elite Traveller Plus Scooters come in handy, for traveling long distances.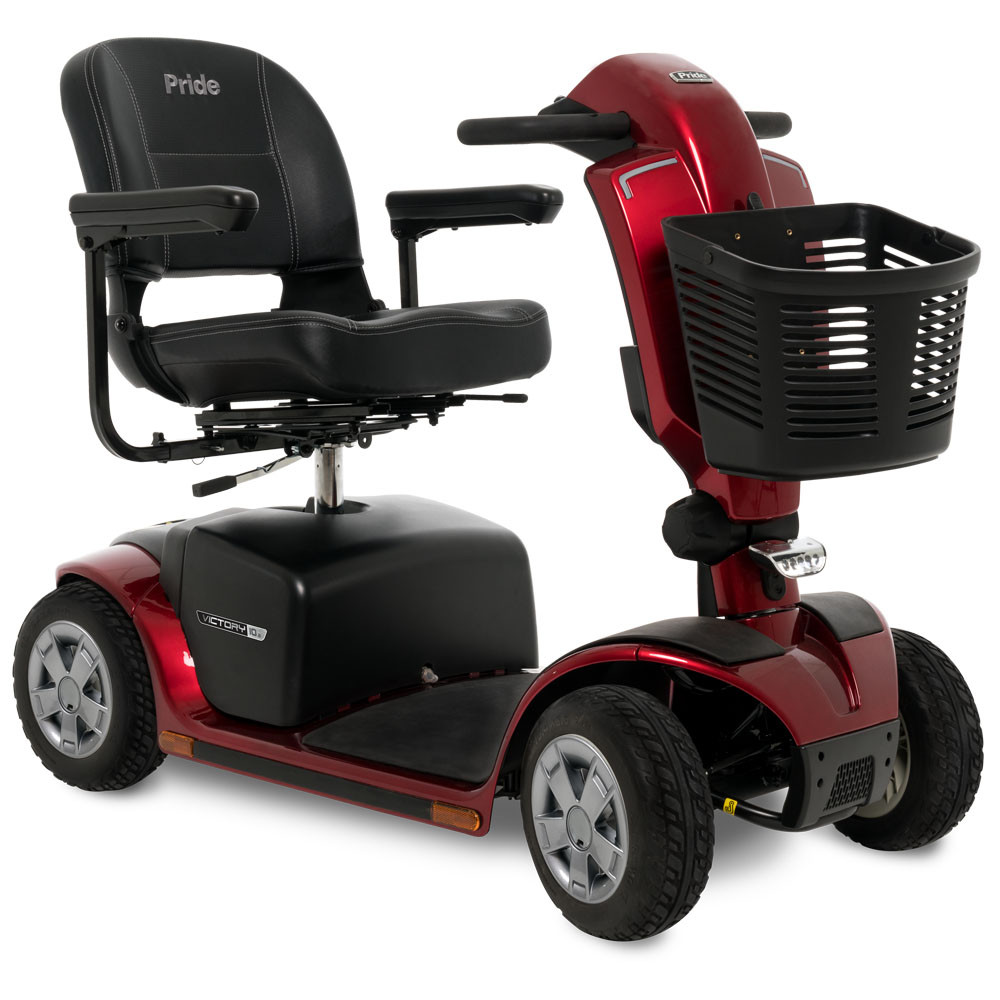 This scooter works best for handicapped senior citizens who are big adventurers. If you are searching for the best travel scooters, this specific model would not disappoint you.
How long can you leave a mobility scooter on charge?
The battery of a decent quality disability scooter will stay around 45 minutes to 1 hour with a single charge. Though, the battery drainage time depends on various factors.
Can Road Mobility Scooters Go on The Pavement?
Yes! Legal road mobility scooters are allowed to ride on pavements under only one condition the speed limit should be under 4 mph in order to prevent any harm or accidental damage to the people. However, they have the right to utilize the pavements like other pedestrians.
Mobility scooters should have lights, reflectors, pointers, and cautioning lights. They should have powerful breaks, a horn, and a mirror. If all these necessary features do not work properly in your scooter, you might fall into trouble with the police.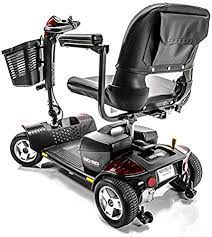 Though you do not need a driving license, it is advisable to get proper training on how to drive this electric medical disability scooter. The lowest age to ride a medical scooter for handicapped on the road or on pavements is 14.
How do I protect my disability scooter from the rain?
Tape the holes in the deck.
Keep duct tape in your bag and tape it over the charging port.
Put o-rings around non-fixed screws and openings.
Use silicone or Loctite to make it waterproof.
Cover the power button and screen.
Cover all the connectors.
Where Can You Drive Your Mobility Scooter?
Even though laws differ from one country to another, the overall principle is that electric medical scooters can be driven down walkways and into buildings. However, they are not permitted on the road or bicycle paths.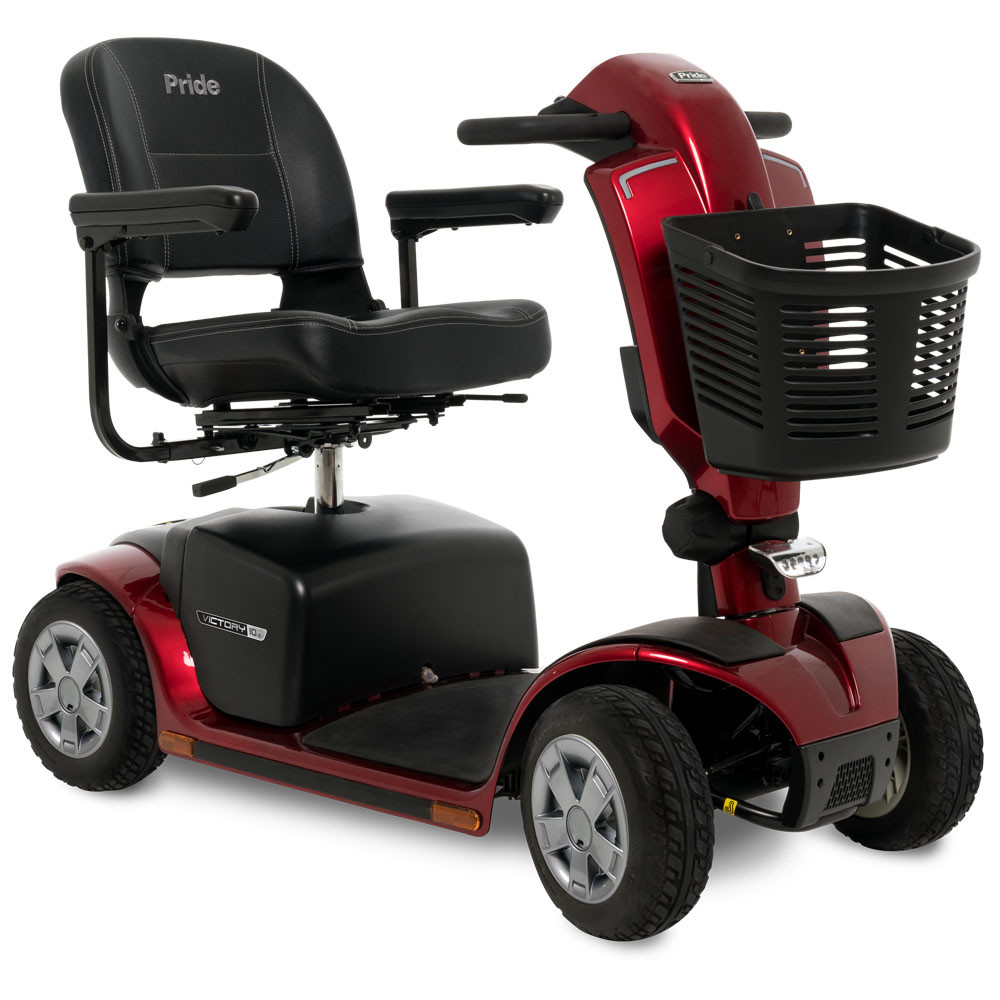 If you are struggling with walking, these heavy-duty electric scooters are a life savior for you and can improve things significantly. Many important aspects we have discussed above that can play a huge role in picking the right scooter for you. These 4-wheel scooters are the best mobility scooter for the handicapped and elderly.